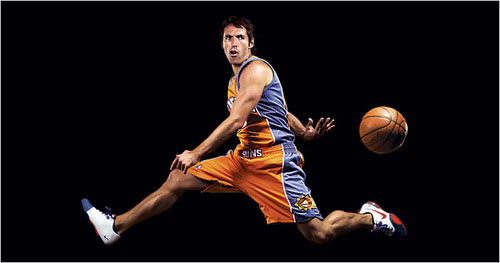 I'll admit, I'm not a huge sports fan. I think Sunday's match up between Canada and the USA in Olympic Men's Hockey, was the first time I've watched a full, televised game…Ever. But before you start throwing sweaty gym socks at me, I have to admit that I really, really enjoyed it. How could you not?! I can finally understand why sports is such big business.
Hockey aside, I'm not totally ignorant as to what happens in the world of professional sports, and who the players are. One name that's always stood out is Steve Nash. I know he's an amazing basketball player. I know that he didn't even start playing basketball until he was in eighth grade, and that at a mere 6'3″ he beat the odds in terms of making it big. I even know that he's a five time All-Star and two-time NBA MVP with career per game averages of 14 points and 7.6 assists. That's right.
But when I picked up February's Fast Company Magazine and saw him on the cover, I was intrigued. What business lessons could I learn from an NBA player?
It turns out that there aren't many lessons we can't learn from Steve. This reluctant "anti-brand," household name, holds up in his off-court ventures as well as he does on the court.
Here are my Top 10 reasons we should all be a little more like Steve Nash:
1. He gives 100% – No one can call Steve a slacker.
2. He focuses on opportunities rather than setbacks – The man plays pro basketball despite the odds against him, namely height and a serious back injury.
3. He trains hard – Whether physically prepping for his day job, or becoming an intern at a marketing firm for the summer to understand this side gig, Nash isn't afraid to get his hands dirty.
4. He's not afraid of failure – He improvises on the court, and off. The man isn't afraid to take risks.
5. He gives back – Remember when we were talking about corporate social responsibility a few weeks ago? Steve takes "giving back" to heart. The Steve Nash Foundation is a prime example of this.
6. He's action-oriented – Rather than simply waiting for others to do the work, he takes on jobs himself, like writing scripts for commercials, and producing his own videos. He does it all. (See #4.)
7. He embraces change – Despite his reluctance to become a "brand," he assumed the role with zeal when he saw how much good he could accomplish by doing so.
8. He's a new media pro star – Production company (Meathawk Productions)? Check. Viral videos? Check. Twitter account? Yup. If Nash is doing it, maybe you should too.
9. He's humble – With so many people feeling the need to "be somebody", Steve exudes a reluctant celebrity status, marked not by the need to impress, but to make a difference.
10. He plans ahead – He knows he's not going to play basketball forever, and has already assumed other roles to plan for this future. Staying innovative counts.
Steve is changing the game of business by making his own rules, and forging ahead with intent and creativity. How are you changing your game?
Tags: branding, corporate social responsibility, inspiration, public relations, social media, twitter