Recently I have begun to experiment with a new (2008+) and growing media tool: Tumblr. The tool combines Twitter and Blogging to create a "micro-blog." Instead of short posts on your WordPress or Blogger account, you post small updates on your Tumblr page. These updates can be larger than Twitter's 140 character limit, but users are encouraged to keep updates small. Multimedia can be uploaded to a page directly, much like a blog or a Twitter pic link.
Tumblr wants you to Save Twitter for short links and updates, blogs for longer discussions and Tumblr for longer than Twitter updates but not long enough to merit a new blog post.
On one extreme there are blogs (long, in-depth) and the other extreme is Twitter (short and shallow). Tumblr strives to hit the golden mean and let users post medium posts, enhanced with embedded multimedia.
My favourite feature is the news feed, which standard blogs do not have and acts just like the Twitter feed. Users can "reblog" their favourite posts directly from the news feed.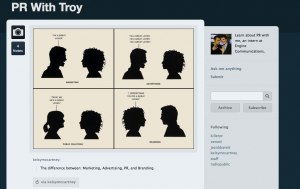 Does it work? From what I have seen so far, Tumblr is easy to use and is quite unique. If it was not for their technical instability I think Tumblr would be the next big social media platform.
The instability means that users can never know whether their posts will be posted or lost. They won't know if people will even be able to access their page when Tumblr servers go down. Tumblr will not continue to grow if users become frustrated with technical glitches.
Tumblr is a neat tool and has a vibrant community if they can fix their issues I can see it becoming quite popular. I definitely recommend checking it out and see if it is useful for you and your organization.
Is Tumblr the way of the future, or is there some other site out there that is thriving and growing? Let us know what you think. You can check out my work-in-progress Tumblr at: troyvstew.tumblr.com