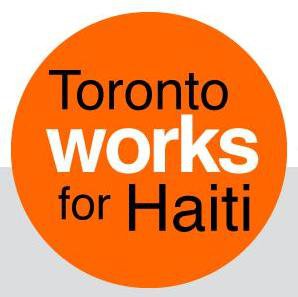 Today is one of those days when I'm amazed by the connections, and opportunities for community building and business, that social media allows. I'm even more awestruck by being surrounded by so many people working passionately for the cause of Haiti.
Why focus on Haiti on a business blog? Because it's the perfect example of how so many elements that we've been discussing in this forum (ie. social media, cause marketing, corporate social responsibility) come together to make a measurable impact on society.
Today my friend and colleague in the social media space, Sophie Bifield, introduced me to her friend and colleague, Elliot Ng. Elliot is the founder of Toronto Works for Haiti, a group of volunteers in Toronto offering professional services in exchange for donations to Haiti.
Their goal is to raise $5,000 for relief efforts before March 18, 2010.
Currently they stand at 20 volunteers with skills ranging from administrative services to professional editing,
social media marketing, and realty. There are no overhead costs, and they're asking that all donation go directly to the organizations they support, namely the Humanitarian Coalition, the Canadian Red Cross and Doctors Without Borders. All the recipients of the goods and services have to do is let them know how much they're donating so they can keep track of their efforts.
Here's Elliot's take:
After hearing about the earthquake, I felt that it would not be enough to for me to just make a donation to the charities. I asked myself, "What can I do to offer more? How can I help people in Haiti even though I am in Toronto?" On top of that, my professional background helped me put my own spin on it: coming from the business background, I understand the need for businesses, and naturally I started connecting the dots. Why don't I try to find other like-minded individuals who are compassionate and want to mobilize our skills for this great cause? So I picked up the phone and pitched to my friends: Roxanne Chow, Katherine Lee, Kilim Park, and Mark Savel. They liked it! Roxanne gave the group the name we are using now. Katherine started creating the structure of the organization. Kilim started writing on our blog. Mark suggested ideas on how to make this idea bigger. It snowballed and the rest is history.
There are a few things I love about this idea:
It raises money for a great cause.
It allows small business owners to make an impact on a global scale.
It creates awareness for small business, and is a great PR opportunity.
It creates opportunity for collaboration, and networking.
It's a simple idea that your business could easily adopt for any cause you're passionate about.
What do I want you to do?
Take some of the ideas we've dissected and apply them to your own business strategy. The bottom line for you is increased awareness, networking and sales.
Get involved with Toronto Works for Haiti or another local group like New Mercy Ministries, both to help with relief efforts, and to network with some brilliant, talented people.
Join the Toronto Works for Haiti Facebook group, and voice your support. Put their logo on your profile to spread awareness.
Whatever you do, make sure you act now. If not for Haiti, then for the cause you care about. Everybody wins! And you know I love a good win-win.
Tags: bloggers, corporate social responsibility, facebook, guest contribution, inspiration, public relations, small business, social media