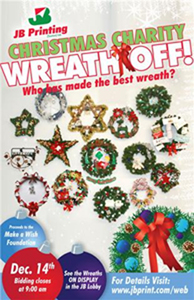 We here at Engine love it when our colleagues and clients come up with amazing ideas! Here's one that we just had to share.
The group from JB Printing, in Belleville, Ontario, have created an online charity auction, where they're selling off Christmas wreaths, made by members of their team, to benefit the Make A Wish Foundation.
Here's Owner, Teresa Bell's, take on how this project came about:
It started in October…….at a staff meeting we somehow got started challenging each other to a pumpkin carving contest. Well, the next week everyone showed up with a pumpkin and then we asked customers to vote. We had such fun with it that we started thinking, what could we do next?

With Christmas just around the corner it was natural to think of a wreath making competition, and we always support a charity. Why not put the two together? The Wreath Off was born.

The hardest part was deciding which charity to support. In past years we have done a Toy Drive, Christmas Sharing Baskets and Coats for Kids. This year we voted to raise money for the Make a Wish Foundation.

Everyone at JB Printing made a wreath. The rules stated that you had to make it yourself, it had to be a continuous shape and less than 24″ wide. When the wreaths arrived we were amazed at the variety, ingenuity and talent showcased in the various themes.

We are now auctioning the wreaths off, with 100% of the proceeds going to the Make a Wish Foundation. The JB staff are a pretty competitive bunch and we all want to have the highest selling wreath. It's annonymous, so no one knows whos wreath they're purchasing. The wreath designers will be revealed after the auction closes on Dec. 14.

Merry Christmas,
Teresa Bell
This is such an ingenious way to engage staff, foster creativity and out-of-the-box thinking, and to give back to the community!
To find out how you can participate in the JB Printing, Christmas Charity Wreath Off, check out this link!
Tags: corporate social responsibility, guest contribution, non-profits, projects