Everyday, I explore the web for current articles and blog posts about social media strategies. These posts are usually divided into helping businesses sell to businesses, businesses sell to consumers (ranging from large corporations to small business solutions), or personal branding techniques to land a role helping with the B2B/B2C listed above.
What about the Creative Entrepreneurs?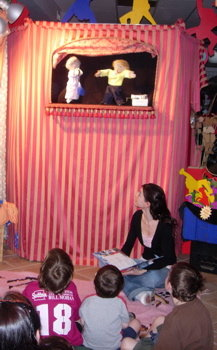 You know the portion of people in North America that channel their artistic output into a small business to support themselves. These are the people breaking free from the traditional 9-to-5 to follow their passion. Whether they are selling beautifully designed puppet theaters, have created an innovative way to diffuse natural oils, or something else along those creative lines, these people need to work extra hard to be noticed. Many of these entrepreneurs have mastered the tradeshow, own a storefront and have been featured in a variety of publications, but when it comes to the web and social media, they become overwhelmed.
This is a project that both Bryna and I have been excited to bring to the community since I started with Engine Communications. We are looking to help people go from the web presence of a "starving artist" to "social media savvy entrepreneur".
I tried searching the web for similar advice directed towards artists and was only able to find ebooks being sold for about twenty bucks with only basic information that seemed less useful that what we are prepared to offer.

Over the next couple weeks I will be providing the following posts:
Artist Identity Crisis: Succeed without "Selling Out"
Your Home Base: A Website Optimized for Sharing
Choosing the Right Social Networks: Integrated Communication
Let's face it, we all have that talented individual who comes to mind. Hopefully, these posts will be able to help jump start their social media efforts. Social media isn't for everyone, but I know a couple artists who see the potential but have no idea where to start.