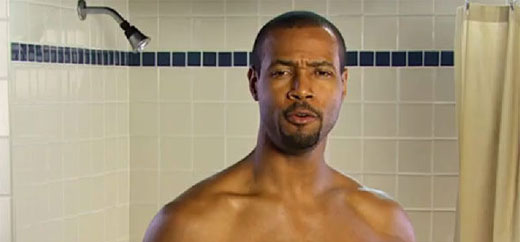 Last week, the internet saw one of the most popular viral campaigns of all time! Old Spice teamed up with Wieden + Kennedy to bring "The Man Your Man Can Smell Like" guy, portrayed by actor Isaiah Mustafa, to fans by creating a series of personalized Youtube responses.
How great was this campaign for exposure?
In a 24 hour period, they were able to get:
•    180+ videos created
•    5.9 million views
•    22,500 comments
We can compare this to other notable viral videos and see that it beats out influential people like Obama and Bush.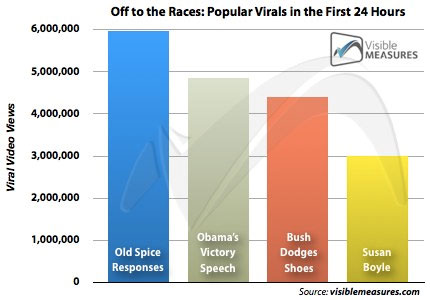 (Via
Mashable
)
I will have to agree with Iain Tait, Wieden + Kennedy's Global Interactive Creative Director , when he says, "In a way there's nothing magical that we've done here, we just brought a character to life using the social channels we all use every day. But we've also taken a loved character and created new episodic content in real time."
They used many of the principals for social media success that have been discussed thoroughly around the internet. This campaign engaged consumers, added value to their lives, was created in a human voice and was done in a timely fashion. Let me explain:
Engage Even if the personalized was response wasn't written directly to you, it still felt like he was in your bathroom answering questions.
Add Value This is something that consumers had never seen before, a global national brand reaching out to its consumers through a 'brand mascot'.  You simply HAD to tell all your friends that would care!
Human Voice Even though it was a global-national brand, it felt more like a simple sketch comedy bit. It felt real, it felt human.
Timely The fact that these responses were sent out in real-time is unbelievable and makes this campaign a huge success – it was about conversation.
I am hard-pressed to call this campaign a success, yet. I would still want to see how this campaign had an impact on sales before we start creating case studies that will be looked at until the end of time. I have no doubt that there is a positive influence on the bottom line, but at the very least I think this campaign has reinforced the "new and youthful" revival to the Old Spice brand.  I also believe that this has opened up a chasm of potential in how brands can now communicate with their consumers.
What are your thoughts?