I've had the pleasure lately of talking to some amazing people working in the field of humanitarian relief. Through my association with a small non-profit called Streams of Hope, my world has been opened to the plight of the poor and oppressed.
In honour of World Humanitarian Day, I want to showcase their work, their visions, and their organizations. Here are some snippets of their interviews with me. Please see the Streams of Hope blog for their full stories.
Dave Toycen, President of World Vision Canada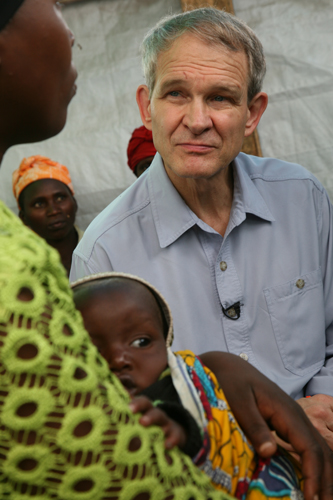 What we're seeing in eastern DRC is an incredible humanitarian crisis – absolutely one of the worst in the world right now.
Nearly 1.5 million people are displaced, women and girls are the victims of sexual violence and children are recruited as soldiers daily. An estimated 45,000 people are dying every month from malnutrition and infectious diseases in the region – a number we would certainly not tolerate here in Canada.
For me personally, this was one of the most difficult trips I have taken in a long time.
World Vision began working in the DRC in 1958, helping girls who would otherwise have been forced into early marriage. By 1988, World Vision had established longer-term community-based projects, through child sponsorship, and is now assisting 56,000 sponsored children in the country.
We are currently working with communities through 25 long-term development programs. We are working to improve water and sanitation, develop infrastructure, improve health and education, in addition to responding to HIV and AIDS while improving food security through special, shorter-term projects.
We are helping 50,000 children recover from the trauma of war in eastern DRC through a UNICEF-funded psychosocial and child protection project. We are also helping families in crisis with survival items like blankets, soap, plastic sheeting for temporary shelters and other emergency help to children and their families.
Kevin McCort, President of CARE Canada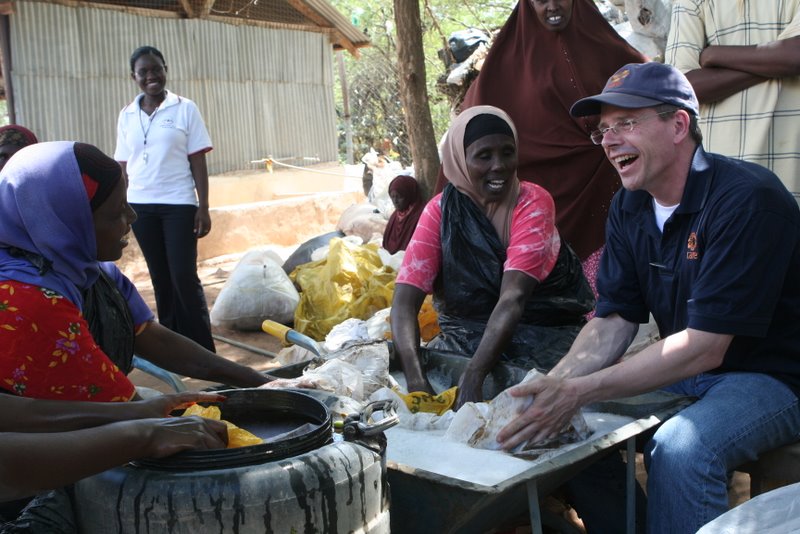 I'm worried that the message the public is hearing (which are not always what people are saying) is that Aid Doesn't Work. My counter-message is "Aid Does Work… if it's done the right way".
CARE has combined conservation farming with village savings and loans. In Zimbabwe there are food shortages and food is very expensive. But the 87 families participating in that community garden are now fairly food-secure. They've increased their crop yields, with the VS&L they can afford agricultural tools and inputs, and they're producing enough to sell for income. I've got a great photo of one woman named Rumbizwi Seminrufo proudly holding up a handful of ripe tomatoes and grinning from ear to ear. She's living proof that, if you do it right, even in the most challenging environments, aid can work.
Ultimately, these arguments point to a radical scaling up of developmental assistance.
We actually have to try harder and we must channel the bulk of this assistance through civil society organizations who are the most effective. The only way this will happen though is if the tax-paying public hear the message that Aid Does Work, and demand that their tax dollars, and their charitable giving, go through the most effective channels to make it happen.
Eugene Cho, Executive Director of One Day's Wages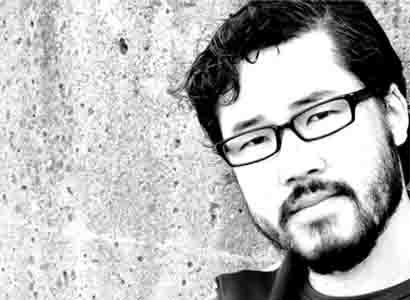 My conviction is that humanity was created for good, justice, and compassion. At the core of our hearts, I believe we are created with an inclination towards such things. However, I also acknowledge the darkness and proclivity towards evil that lurks with all of us and as such, there's a constant tension.
For me as a Christian, I believe in God and the goodness, peace, and shalom He intended for all of humanity. As a human and a follower of Christ, pursuing 'mercy, justice, & humility' are not optional. When I pursue these things, not only do I honor my convictions, my faith in Christ, but it is when I feel most alive…when I feel I am living in the fullness of what I was created to be and do.
One Day's Wages is a grassroots movement where we invite the global community to simply give one day's wages to fight extreme global poverty. Our goal is to integrate human relationships + social media/technology + vision + collaboration = end extreme global poverty.
My sincerest thanks and appreciation goes out to each of these men, and to all of their staff, families, and to the myriad of others working in social justice around the world.
You might not connect your business with social justice, but you should. The impact that your organization has on the world counts, no matter how big or small. Consider corporate social responsibility the next big thing in business.
Contact Engine Communications to see how you can help.