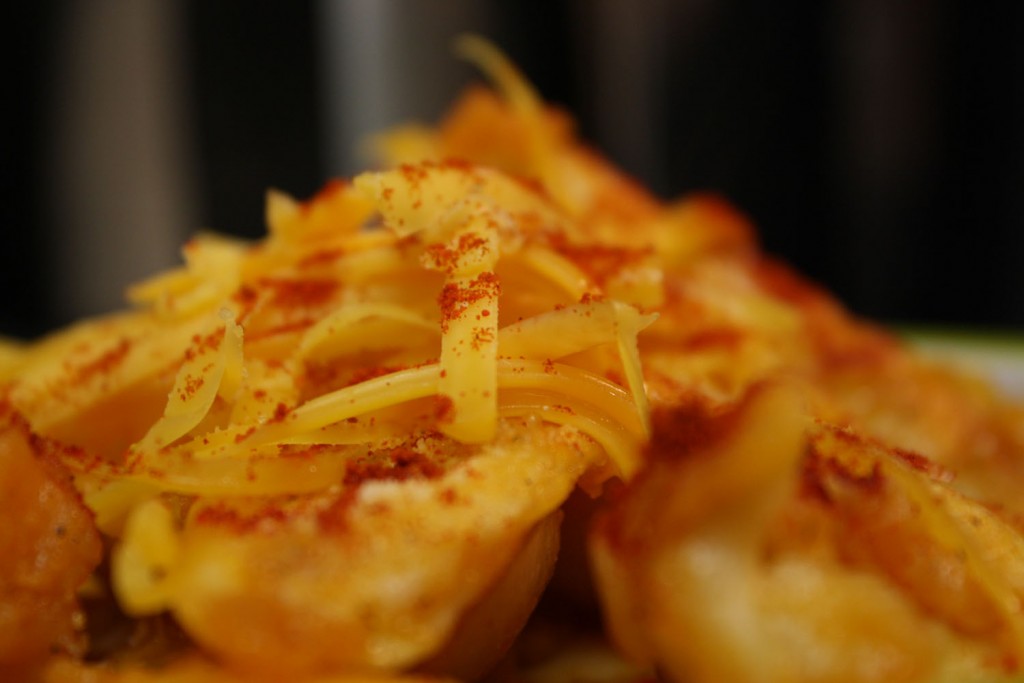 Well, what better way to have a great meal this weekend, than to try Perogies – Tom style. Over the past few years, while I was a student there were a few simple, economical meals I learned to make and love; spaghetti, pizza, and asian noodles became the three base food groups that my diet consisted of. Being a vegetarian, I was forced to think a little outside the box, and had to cook for myself a little more frequently than your typical student. These perogies aren't your usual meal, and if you're a fan of spicy food (like buffalo wings) these will quickly become a favorite. disclaimer: this isn't a guide on how to make perogies from scratch, although if you did that I'm sure this would turn out better – this is simply how to prepare perogies in a way that turns them into the single greatest hedonistic pleasure known to man.
Ingredients
A bag of Frozen perogies
A large onion or a couple small ones
A clove or two of garlic
Spices (salt, pepper, paprika)
oil (for cooking)
Buffalo sauce or Cayenne pepper sauce
Thai Chili sauce (or other spicy hot sauce)
Parmesan Cheese
Cheddar Cheese

Boot Camp
You'll need to prepare for frying the perogies by first slicing your onions and garlic. We usually cut the onion in half and then slice each half into 1cm strips (big enough to pick up with a fork), and then just slice the garlic cloves as finely as we can manage with a paring knife.

Heat Things Up
You're going to need a vessel in which to cook these perogies; a large frying pan will suffice, but once your friends have tasted them and come around demanding you make them once again, using a wok works perfectly for large batches. Go ahead and put enough oil for frying into the wok, and as you turn the heat on (somewhere around medium-high) place into the wok as many frozen perogies as you require to feed all the hungry mouths you have in the kitchen. Toss in the onion and garlic, and bathe the contents of the wok in your cayenne sauce (be generous). Add salt, pepper, and paprika to your taste. (you can experiment with cumin, coriander, mustard, or other spices as well)

Stir Up Trouble
STIR. Once these potato-filled bundles of goodness have entered the wok, they need constant attention so they don't burn or stick. Keep adding oil as needed to keep things moving. They will take more than ten minutes, but the payoff is worth the pain.

Perogy-Watching
As you stir the perogies, you will see them go through several distinct stages, and being able to identify these discrete stages becomes easier with time: frozen blocks of potato, softened frozen blocks of potato, very-cold-but-no-longer-frozen blocks of potato, uncooked perogies, golden-brown bundles of pure ecstasy waiting to be consumed. Once you notice a browning on the rounder side of the perogies, that's your cue to take them off the heat.

Tears of Joy
Now the perogies are off the heat and it's the perfect moment to give them a little boost in flavour. This step is one that evolved over time, but has become essential to making them Tom-Style. Sprinkle a liberal amount of parmesan cheese (or any other political affiliation of cheese that suits your taste) over the perogies and stir it in. This not only removes some of that oily sheen from the perogies, but exponentially increases the flavour at the same time.

Loss of Motor-Control
Now the perogies are cooked, ready to serve, and you're ready to attempt eating all of them at once after looking at them for so long while preparing them. What we like to do to serve them is layer perogies and grated cheddar cheese in a bowl, and enjoy of course! (I suppose if you're feeling abnormally extravagant you can dust the top with paprika for some colour too) And that's how we prepare perogies. I hope you enjoy this recipe, experiment with it a little, and find a great way to serve these. But seriously, we weren't kidding – they are addictive and once you serve your friends they'll keep coming back for them; only give these perogies to people you don't mind having over frequently.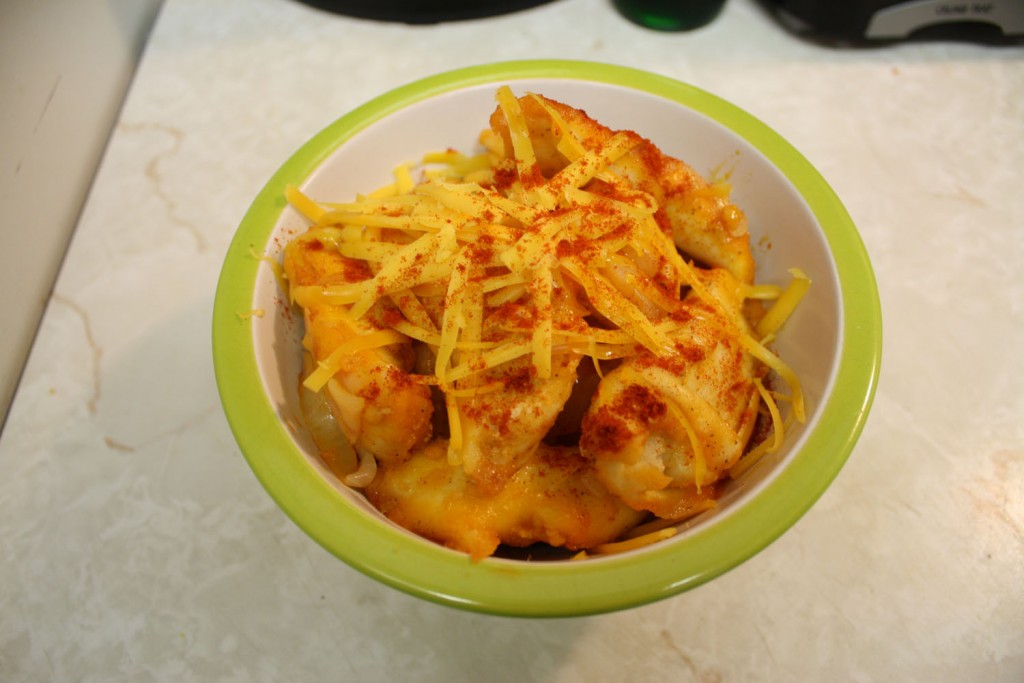 –Tom
{ Thanks @The_KL for taking pictures! }