To continue what I stared last week ~ Holiday Entertaining 101
Whether you are throwing a big bash or small intimate dinner party, the keys to success are: ORGANIZATION, PLANNING & PRESENTATION. Keeping that in mind, the planning process shouldn't stress you out, and doesn't need to come with an expensive price tag. Having fun and enjoying the whole process from start to finish is just as important, otherwise, why bother!
WHAT – Pick a theme (Christmas Cocktail Party, Dinner Party, Skating Party etc.)
WHEN – Choose date and time of party.
WHERE – Is the party inside, outside, at your home, hall etc? Provide address and directions if necessary.
WHO – Guest list! Who do you want to invite to your party? TIP: it's a good idea to call ahead and speak with the key people on your list just to make sure that they can attend. Once you have their commitment you can seal the date and time, then get invites out (I covered invitations in this post).
HOW – What can you afford to spend? Budget, yes, I know it's hard, but try to stick to it.
HELPFUL HINTS (I tried to keep it to 10, no such luck, sorry!)
Lists, you can never have enough of them. Guest lists, Menu Lists, Drink Lists, shopping lists. (I just love crossing items off my list–it makes me feel like I have actually accomplished something!)

Always pick recipes that are tried, tested & true. Not a good idea to use your holiday guests as guinea pigs. Confidence in your menu choices is a must!

Shop early – this will allow you to take advantage of supermarket sales and spread the cost out over time.

Set a gorgeous table or buffet and include a unique centerpiece. You don't have to limit yourself to flowers, see what treasures you have around the house (what about the pine cones that have fallen on your front lawn, or a glass vase filled with simple shinny red Christmas balls).

Candles and lots of them. Candlelight is the kindest light of all ~ warm, cozy and inviting.

Plan to have a variety of nonalcoholic drinks on hand. Always buy more than you think you'll need.

Lots of Ice, you can never have too much, and buy the day of the party.

Your porch or garage makes an awesome fridge.

Make sure that your bar is set up before guests arrive, music play list has been selected and music is playing when your first guests arrive.

Hosts are dressed & ready prior to guests arriving! Give yourself enough time to get ready ~ have a cocktail to ease those pre-party jitters, relax and have a fabulous time, as I'm sure everyone else will!
Next week, setting up the Perfect Bar…
In the meantime, get started with this easy party recipe.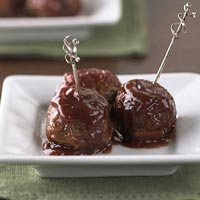 Easy & Elegant Holiday Hors D'oeuvres
Cranberry-Glazed Cocktail Meatballs
     ~ One of my old favorites from Food & Drink, Holiday 2004
Olive oil for brushing meatballs and baking tray
3/4 lb ground pork
1/2 cup chopped Italian parsley
2 cloves garlic, minced
One 1″ slice French bread, crusts removed, soaked in water and squeezed dry
1/2 tsp 5-spice powder
1 large egg, beaten
Salt & freshly ground pepper
Cranberry Glaze
1/2 tsp olive oil
 1 clove garlic, minced
1 tsp chili paste (cut in half if not keen on spice)
1/4 tsp sesame oil
3/4 cup canned jellied cranberry sauce
4 tsp soy sauce
1 tsp honey
1 tsp oyster sauce
1.  Preheat oven to 400 and brush a baking sheet with oil.
2.  In bowl combine pork, parsley, garlic, soaked bread, 5-spice powder, egg and salt & pepper. Mash together with hands and mix well. With wet hands roll mixture into 24 balls, about 1″ each. Place balls on baking sheet and brush with oil. Bake meatballs 15 mins, flip them over. Turn on broiler and continue cooking for 5 to 10 minutes or until crispy and done.
3.  Cranberry Glaze – heat olive oil in small saucepan over medium-low heat. Add garlic and cook for about 5 min or until softened but not browned. Whisk in chili paste, sesame oil, cranberry sauce, soy sauce, honey and oyster sauce. Simmer 2 – 3 min.
4.  Remove meatballs from oven and transfer to a large bowl. Pour glaze over meatballs and toss to coat. Skewer balls on a cocktail pick or toothpick and place on a platter. Serve warm.
You can make the meatballs ahead of time and freeze, then all you have to do is make the glaze, heat meatballs and serve.
Happy Friday,
Kerry
Tags: food, inspiration