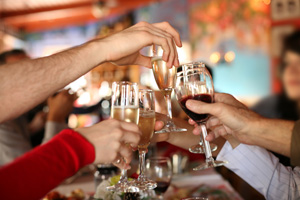 I'm a consummate learner, and yesterday I was lucky enough to be able to indulge my academic yearnings by spending the morning with a group of students from Loyalist College's PR (@loyalistpr) program. They're helping us to plan a Tweet Up to raise money for Flights of Hope and their relief efforts in Haiti.
After our brainstorming session, I was able to stop by the Art & Design Foundation (@artdznfndation) program to sneak a peek at their current projects, to talk internships and to start thinking about the workshop we'll be doing with them later in March.
If you're like me and crave learning, here's a list of events to teach and inspire you:
Social Media Week – It's happening in Toronto, as we speak! With a great line up of guests and events, this is a great follow up to Ad Week.
Toronto Works for Haiti – Yes, I blogged about them last week, but they're doing amazing work to benefit the people of Haiti; they deserve the air time. (Plus, they got a site redesign! Slick!) I love the concept of delivering a valuable service for donations. It's so much cooler than just asking for money. This is the kind of model any business could implement. They're hosting a networking event in Toronto tonight, and I'm so sad I won't be able to attend.
Eat, Drink & Give – Eat, Drink and Give has teamed up with a number of Toronto restaurants and Ontario and international wineries, to plan an evening of food and wine, with all proceeds going to Doctors without Borders. The event will be held on February 9, at Roy Thompson Hall. This event has been planned, in part, by one of our Twitter friends, Suresh (@spotlightcity)–one of the best food bloggers around.
Maple in the County – Another great event, this one local, to learn about all things Maple Syrup! Could life really get any sweeter?! It's perfect for the whole family, and this year, they're going interactive. Follow @CreativeDanT, @OntarioCulinary, @blackprincewinery, @TastetheCounty, @SandbanksWinery, and @saraswatispa for more info as it unfolds.
Tweet Up Quinte! – On February 18, 2010, Engine Communications and Loyalist College's PR program will be hosting a Tweet Up to raise money for Flights of Hope's relief efforts in Haiti. There will be amazing door prizes, lots of networking and talk of all things social media. It's going to be happening at the Boathouse Restaurant from 5:30-7:30. We'll post all the details on our Facebook Fan Page.