Recently I read an article from Techipedia about "Building the Perfect Facebook Page for 2011." This article breaks down and simplifies the page layout. It is a great resource for companies, small businesses and not-for-profits.
Normally, the a page looks like an extension of Facebook with your logo on it; however, customizing your page will easily create brand awareness and continuity. Many people realize the importance of a great looking website, but underestimate the importance of a great looking fan page.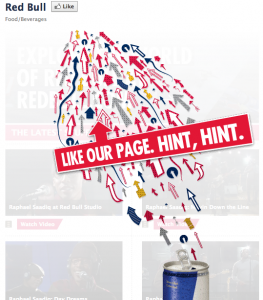 Having an underwhelming fan page will get you an underwhelming response. Companies such as Pepsi, Red Bull, and McDonald's realize the potential opportunity and have created a page that is consistent with their image and looks fantastic.
Creating a branded, stylistic Facebook page will entice customers to check out your company. You will get your message out, not Facebook's. Talk with us today and we can help your brand successfully use Facebook Pages.
Tags: branding, facebook, Marketing, social media