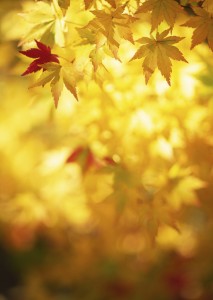 Well it's official–in my mind anyways–fall is here! The kids are back in school, it's dark by 8:00pm, the lake is definitely what you would call 'refreshing' and the air just has that smell to it that screams summer is long gone!
It seems like the transition happens over night; you hit that monumental 'season wall,' and you hit it hard. One day it's hot and humid, you're swimming in a lake that feels more like a warm bath, and the nights are long with the lingering scent of bonfires and roasted marshmallows. The very next morning you wake up and see you breath when you take that first step outside (okay, so I'm being a little dramatic here, but you see my point). The lake now feels like someone has dumped a truck load of ice in it, and the days just seem to fly by as darkness lays it's blanket so much earlier.  
For those of you who don't buy into this and still think it's summer, you have until September 22nd at 5:18 pm, when the true transition takes place and Fall becomes a reality. 
Fall is also known as autumn, and lasts from the autumnal equinox (September) to the winter solstice (December).  
Yes it's sad to see summer go, but once autumn shows it's face, how beautiful it is. This is one of my favorite times of the year. Autumn harvest brings wonderful flavors to our table, and I get so excited to transform the bounty into wonderful meals for family and friends to enjoy. 
Homemade soup is one of my specialties. It has a warming and healing property that has everyone coming back for a second bowl. 
Apple Squash Soup – makes 10 cups 
1 tbsp olive oil
1 onion, chopped
1 large clove garlic, pressed
8 cups of butternut squash, peeled and diced
1 sweet potato, peeled and diced
2 apples, peeled, cored and diced
4 cups chicken stock (always tastier if you make your own stock)
1 tbsp chopped fresh thyme or 1 tsp dried
1 tbsp chopped fresh rosemary or 1 tsp dried
Salt & pepper to taste
3/4 cup half and half cream
Splash of Sherry, or two or three…
 PS. Sherry makes everything taste better! 
Heat oil over medium heat in a stock or large pot. Add onions and garlic, cook on low for 3-5 minutes.
Add squash, sweet potato and apples. Stir to combine. Add next 5 ingredients and bring to a boil. Reduce heat, cover and simmer for 30 minutes or until squash is very tender.
Puree soup. Return to low heat and add cream and sherry, let simmer for 20 min. Taste and adjust seasoning. 
Ladle into bowls and top with fresh herbs and aged white cheddar, if you can find smoked cheddar that would be even better! 
Serve with a crisp Riesling or a bottle of Harvest Gold Pale Ale from our local Barley Days Brewery.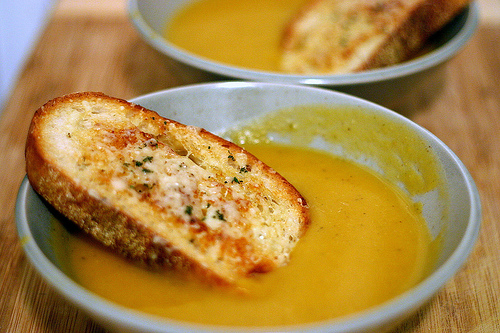 Tags: food