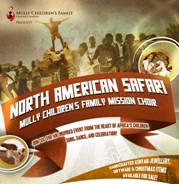 We here at Engine have had the privilege of helping our friends at the Mully Children's Family with some of the promotional elements for their 2009 North American Safari Tour. If you don't know what the Mully Children's Family (MCF) is, let us fill you in.
Charles Mulli, the founder of MCF, was abandonded by his family at six years of age and left to beg on the streets of Kenya. Through perseverance, passion and ingenuity, Charles became a self-made millionaire–overcoming obstacles of social class, race, and extreme poverty. Charles had seen his dreams become reality. But then fate intervened, and his life was changed forever.
In 1986, a group of street children stole Charles' Mercedes during a business trip to Nairobi. His anger quickly turned to compassion as he realized that he was once one of them. He knew he had to do something. 
Charles and his wife, Esther, gave up everything they'd accomplished–sold his homes, cars, and businesses–and used the money to open the Mully Children's Family, a Christian humanitarian organization committed to transforming the lives of orphaned, abandoned and abused children in Kenya.
Since its opening in 1989, MCF has seen over 7,000 orphaned and abandonded children rehabilitated, educated, and rescued from AIDS, poverty, disease, and isolation. 
Using his business savvy and experience, Charles has extended MCF's work to include an agricultural program, medical centre, and environmental sustainability initiatives that provide income for the home and employ half of the surrounding community.
MCF also supports 40 projects around the world—offering guidance to other NGO's and communities in the areas of child rescue and rehabilitation, sustainable development, agriculture, and HIV/AIDS education; and has helped shape Kenya's policies and laws on children's rights and protection.
As I write this, former stree youth, now under the care of the Mully Children's Family are making their way across Canada on their North American Safari Tour. The two-month tour kicked off mid-October in Ontario, and is moving across the country through Winnipeg, Calgary, Grande Prairie, Kelowna and Vancouver until mid-December. The youth will perform at schools, churches and events across the country, presenting a dynamic show of traditional African singing, dancing, drumming, acrobatics, and karate demonstrations from their championship team.
A complete list of tour dates is available on the Mully Children's Family Charitable Foundation (MCFCF) website: www.mcfcf.ca.
The MCF tour will arrive in the Quinte area the week of November 2-6th. These events are a must see!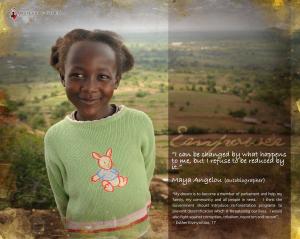 On Tuesday, November 3, Engine Communications is partnering with MCF and local speaker, author and blogger, Sheila Wray Gregoire, to host the Women of Hope event.
This evening is geared toward local business women, but any woman of any age will walk away from this event feeling inspired. No more will the word, 'Africa,' conjure images of poverty and despair. As you hear Esther and Mueni Mulli share their visions for their contintent, country, and it's women, your heart will break but your spirit is sure to soar.
Specificallly, the discussion will focus on the future of education and micro-business opportunities in Kenya and rural Africa, for its women. Testimonials from local women who have visited MCF will also be heard. This is a learning and networking opportunity for anyone interested in social justice, business, and international development.
Whether you're a mother, a daughter, an entrepreneur or student, you'll be inspired by the stories of women, just like you, doing great things to change the world. You'll also have the chance to buy some unique Christmas gifts to support the Mully's efforts in Kenya.
There is no cost for admission, but donations to the Mully Children's Family will be accepted.
If you would like to attend this event, please RSVP to our Facebook event page, or email Bryna Jones [email protected] or Sheila Wray Gregoire [email protected]. You can also call Bryna at Engine Communications: 613-771-0090.
Guests are welcome to bring friends, and seats will be available at the door (just in case you're not sure you can commit). No one will be left out of this special mixer.
Tags: Belleville, bloggers, corporate social responsibility, events, facebook, inspiration, Picton