The countdown is on! Only six more days to finish off your holiday shopping, and that includes the holiday food items on your list. I've finally finished my gift shopping, now all I have left is my grocery shopping (and trust me, that's no small feat). 
This year I'm getting off easy–we have been invited to close friend's for Christmas dinner. Yes, that's right, that means that I don't have to cook the turkey! Not that I normally do anyways, that's my dad's deal. He has perfected the art, and I don't like to mess with perfection. Lucky me! 
Sitting down with friends and family, to a table that is overflowing with scrumptious food and drink, is my most favorite part of the holidays. I can almost hear the laughter and enthusiasm from everyone as they gather–it's just intoxicating! 
I can't help but feel like I have to come up with something spectacular to bring along; maybe some yummy appetizers and a few veggie side dishes. Any thoughts? 
Sometimes, for inspiration, I look to a few of my favorite food sites, one being Our Kitchen, which you should be familiar with by now if you have been following some of my recent Friday posts. One of my new favorites is The Pioneer Woman  ~ brilliant is the best way to describe her.
Her sense of humor, honesty and complete love affair that she has with her food is just amazing and so refreshing. She openly admits that ingredients such as butter and bacon fat makes everything taste better. Well hallelujah, someone who is on the same page as me! 
Most recently I made her recipe for the stuffed mushrooms, I served these at our Christmas party and they were a huge hit – thanks Ree, you rock, I just love your site! (Not only does she share wonderful recipes, but she is a very talented photographer and she tells heartfelt stories about the man of her dreams and their children, once I start reading I can't seem to pull myself away). 
So that answers that, mushrooms it is, along with another recipe that I have been dying to try. It was sent in my Canadian Living Newsletter: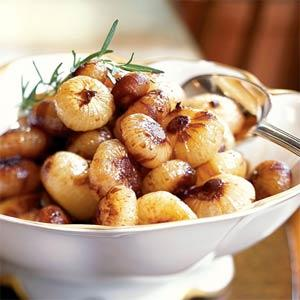 Orange Balsamic Cipolline Onions
By The Canadian Living Test Kitchen
Cipollini (pronounced chip-oh-LEE-nee) are sometimes called wild onions. If you can't find them in the supermarket or an Italian market, substitute pearl onions.  
I'd love to hear from anyone out there who has a brilliant recipe that would be fitting for a Holiday Family Feast.
Have a great weekend! 'Till next week! 
And don't forget, only six more days to finish that shopping!
Cheers,
Kerry
Tags: food