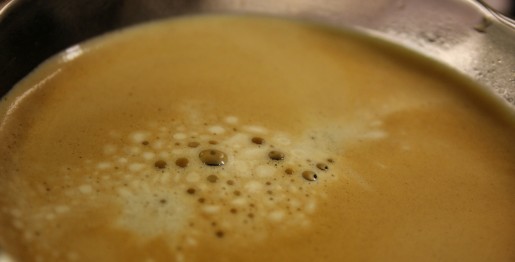 Back when I was trying to pay my way through University I had the opening shift at the campus coffee shop. It was a great job. The Free coffee was the best part! The love of coffee started slowly. Frappuccinos were first, full of sugar, ice and so many things not good for you, but oh so tasty. Then a bad day comes around and you just add another shot of espresso. Before you know it you're a full out coffee snob. After being so spoiled one will never be content with simple brewed coffee again. It is forever ruined.
That is where the Birthday, Christmas, Valentines Day, Thanksgiving, Easter, Hanukah, everything day gift came in. I was given The Breville semi-automatic, programmable, espresso machine. Sounds intense eh?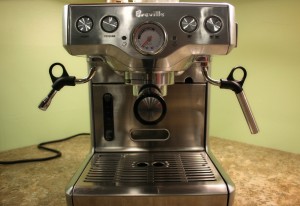 I had often wondered how the quality of home espresso machines would compare to the quality of the commercial ones I was used to. I was pretty skeptical, but after much research I found a winner. This machine is great! It allows you to pack shots better than any other home machine I have used. Check out the crèma on top of the shot.
The steamer is the weakest link on this particular model, but once you get used to it, it becomes easy to create nice thick foam. Overall it is very easy to use  and quite simple to make a quality latte from the comfort of your own home. In general, with home espresso machines, you really do get what you pay for. The majority of people miss out on a great way to entertain and enjoy delicious at home simply because they don't know enough about espresso machines to go about selecting the right one.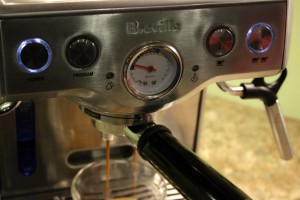 How I made my kitchen the local hangout:
Die-Cast Programmable Espresso Machine -BES830XL
Torani Flavour syrups
Freshly ground espresso (usually Starbucks espresso, or Presidents Choice West Coast Bold Roast)
Milk
A really cool mug
While this is no replacement for a chill afternoon in a coffee shop, it is a little bit of happiness-in-a-cup in between.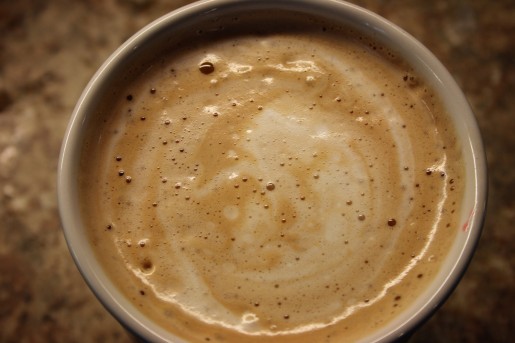 Let us know how you got hooked on coffee!
—Sandra