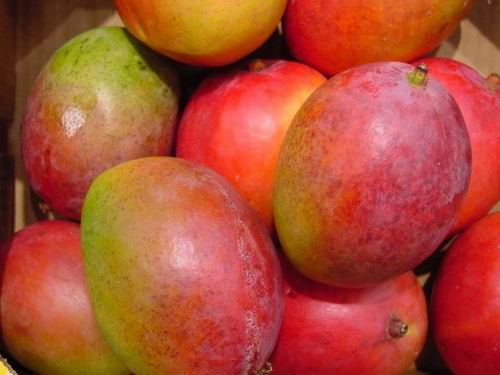 Four of my favorite foods have made the spring top 10 list, Premium Beef Burgers, sweet potatoes, bacon and Mangos. And guess what, we can have all four in one sitting!
TREND: Premium Beef Burgers – Walking through the meat aisle at the grocery store or a visit to your local butcher shop is becoming much more interesting. New quality products and premium cuts of meat are making headlines and replacing the standard. Having a choice of 100% Angus Beef and ground top sirloin, makes Monday nights burger a gourmet dinner feature for Saturday.
TREND: Sweet Potatoes – The name says it all, sweet and golden, so yummy and so good for you – rich in antioxidants, need I say more!
TREND: Bacon – I've said this before, and I'll say it again, everything tastes better with bacon. It enhances flavor and yes, it may add an element of "fat" to your dish, but it's time you got over it, flavor counts for, well, everything! Bacon is turning up everywhere, it's being covered in chocolate, added to ice cream & even infused in vodka.
TREND: Mangos – Tropical sweet freshness in each bite, or sip… quickly becoming the worlds favorite fruit!
The Ultimate Aged Cheddar, Bacon & Sirloin Burger
Believe it or not, I found this recipe a few years ago in a publication that was put out by uniongas, yah, the gas company! I have made a few minor alterations, and the outcome is quite frankly the best burger that I have ever had!
3 lbs of ground sirloin
1/4 cup chopped onions
2 cups chopped raw bacon
2 cups diced aged cheddar
4 tbsp hosin sauce
1 tbsp Worcestershire sauce
2 whole eggs
1/2 cup fresh breadcrumbs
2 tbsp finely chopped garlic
1/2 cup finely chopped herbs of choice (parsley, chives & basil)
Salt & pepper to taste
Glaze
1/2 cup barbecue sauce
1/2 cup hosin sauce
2 tbsp honey
1 tsp cinnamon
Sauté bacon over medium heat until cooked through (reserve the fat). While the bacon and fat are still warm pour over the ground sirloin in a large mixing bowl. Add the remaining ingredients and mix well.
Form into eight even size burgers. Cover and refrigerate for at least one hour.
To make the glaze combine all ingredients. Grill the burgers on the BBQ and brush with glaze every time you turn them. Once cooked through, serve with a final brushing of the glaze.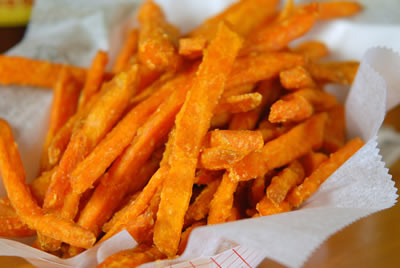 Serve with Sweet Potato Fries & Mangoritas.
1 can of frozen margarita drink mix
1 cup mango nectar
1/2 cup Tequila or Bacardi Rum
2 cups ice
1/2 mango sliced
Place all ingredients except ice in blender. Cover, blend on high. Add ice. Cover and blend until smooth and slushy. Rim glasses with lime juice and coarse sugar. Garnish with fresh mango & lime slices.
Happy Grilling!
Kerry