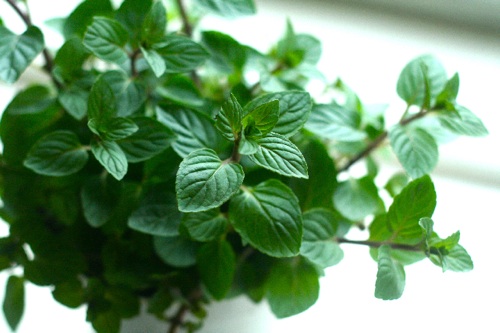 After this weekend, it'll be official, at least in my mind, Spring is here! We set our clocks forward tomorrow night, that's right, it is time to Spring forward – yippee!
With grand thoughts of sunshine and warmer weather, the scent of fresh rain luring colorful spring flowers out of hiding and that oh so familiar sound of a spring robin singing it's tune ~ out comes my gardening & cottage life magazines, and even more important, all of my spring recipes. Later comfort foods, don't worry, we'll hook up next winter!
Roasted lamb, mild and tender, delicate melt in your mouth flavor, so simple to prepare ~ and one of my favorites!
Spring Lamb With a Hint of Mint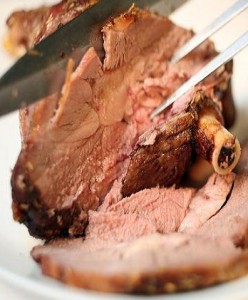 1 leg of lamb

Sea salt & fresh ground blk pepper
1 tsp Worcestershire Sauce
1 tbsp Dijon mustard
Large bunch of mint, washed, leaves only
3 cloves of garlic, 2 minced & 1 sliced
125 ml olive oil
250 ml chicken stock
Remove excess fat & thin membrane from lamb, wash and pat dry. Score lamb all over and season with salt & pepper. Randomly place slices of garlic score marks.
In food processor blend salt, pepper, Worcestershire, Dijon, mint and minced garlic. Slowly add oil to mixture, once blended, brush mixture over entire lamb. Place on rack in roasting pan, roast @ 450 for 10 min. to sear & lock in juices, then turn temperature down to 325 and cook for an additional 1.5 hrs (med. Rare) – 2 hrs (medium).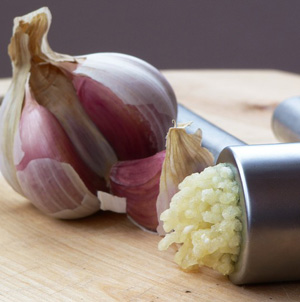 Remove lamb from roasting pan, tent with foil and lest rest for 15 min. Skim fat from pan drippings and add chicken stock, boil, scraping up any brown bits from pan. Keep sauce warm.
Slicing lamb from leg bone – Place lamb with meatier portion facing up. Grip shank end with a towel. Cutting down to bone, cut 1/4" thick slices. With knife parallel to bone, cut slices from bone. Turn lamb so remaining meaty portion faces up. Repeat same steps as above. Arrange on platter; drizzle pan sauce over top.
Serve with steamed baby carrots, tops trimmed & delicate spring asparagus.
Cheers,

Kerry