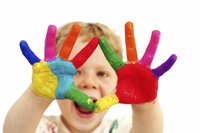 As I mentioned yesterday, I had the privilege of hanging out with the students of the Art & Design Foundation program at Loyalist College. I was there to present a workshop on "Social Media for Creatives."
The idea was this: Many of these bright, talented young design students, will be small business owners someday. We wanted to help take them from the notion of "starving artist" to "social media savvy entrepreneur". Low cost marketing options are great for new grads, and for anyone in the creative class.
Between myself, and Lucas from Winding Violets, we were able to talk about the technical side of this (me), and the application of these technologies in viable ways (Lucas).
At the end of the morning, Lucas did the coolest thing for us, and took everyone out into the hall for a photo shoot. All the students (and I) have swanky new pics for their various social media avatars! Take a look!
Here's the slideshow for you to take a look at. If you have any questions, give us a call.