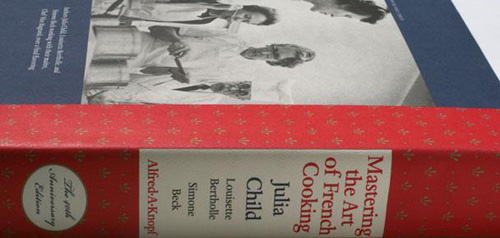 "A good cook is like a sorceress who dispenses happiness."~ Elsa Schiaparelli
To some of you cooking is magic. Well, it really isn't. It's the end result of all of your hard work that is truly magical! You know what I'm talking about, that moment you put fork to mouth, and the taste explosion sets off all of your senses – it's complete satisfaction and a feeling of a job well done!
I thought that we should continue with the "simple is better" topic from last week. Cooking doesn't need to be complicated, or feel like a chore. If you follow the basics of good cooking then everything else should fall into place.
For the next few weeks I will focus on some "simple" traditional. Comfort foods that are really quite easy to prepare. And did I mention, to die for yummy?
One of my all time favorites and an oldie but goodie, is Coq au Vin. If you're saying to yourself, "That's that French dish. It must be difficult to make, and you probably need fancy French ingredients" – wrong! Simple, basic ingredients maks up this classic comfort dish. (Yes, I consider wine and cognac to be basic fundamental ingredients.) The most trying step is cutting up the whole chickens. But I'll walk you through it. (If you want to simplify this even more, purchase chicken pieces instead of cutting up your own chicken)
Cutting up a whole chicken
Place chicken, breast side down. Trim and discard any fat at cavity and neck
Starting at body cavity, cut as loosely as possible along both sides of backbone. Cut off wing tips. Reserve both wing tips and backbone to make chicken stock. (Throw them in the freezer for later use)
Turn chicken over; open up slightly and cut in half through middle of breastbone.
Place chicken halves, skin side up. Lift one leg at a time and cut along contour through skin and meat to separate leg from body.
Bend back thigh and drumstick until joint pops. Cut through skin and meat at joint.
Divide each breast in half; leaving wing attached to one half.
Trim off excess skin and fat from chicken pieces; discard any shreds of bone.
Coq au Vin (serves eight)
This is a combination of the infamous Julia Child's recipe and a Canadian Living Classic.
–         2 chickens, cut up (or 6 lbs of chicken pieces)
–         Salt & pepper
–         2 tbsp butter (you may need more as you cook the veggies, it's ok, butter is an important ingredient)
–         2 pkg pearl onions peeled
–         1 lb button mushrooms (about 6 cups)
–         1 tbsp chopped fresh thyme
–         2 cloves garlic minced
–         6 thick slices bacon, chopped
–         1 bottle of red wine (Burgundy, Beaujolais or Chianti), 2 cups go in recipe & you drink the rest!
–         2 cups sodium-reduced chicken broth (homemade stock would be preferable)
–         1 bay leaf
–         3 tbsp flour
–         1/4 cup cognac
–         2 tbsp chopped fresh parsley
In a Dutch oven cook bacon over medium heat. Sauté slowly until golden brown. Remove bacon with slotted spoon and transfer to bowl. Sprinkle chicken with salt and pepper. Heat half of the butter over medium-high heat; brown chicken in batches. Drain excess fat from pan and put any chicken back in pan that was removed while cooking in batches.
Pour in the Cognac, turn heat up to high, shake pan a few seconds until bubbling hot; ignite. Let it flame briefly while swirling the pan, extinguish flame with lid.
Heat remaining butter in another pan; cook in batches, first the pearl onions (transfer to bowl) then the mushrooms & thyme (if mushrooms are small keep them whole). Tip: if you want your mushrooms to brown nicely then don't crowd them, cook in batches. Cook for about 5 min., add garlic and cook until golden brown, then transfer to same bowl as onions.
Add mushrooms and onions to pan with the chicken. Add cooked bacon, wine, broth and bay leaf, stirring and scrapping up brown bits. Bring to a boil. Reduce heat, cover and simmer for 35 min.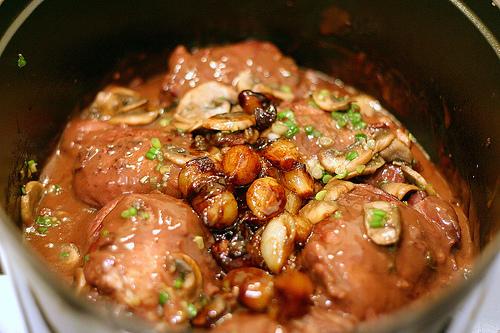 Stir flour with a little bit of cognac or broth, to make smooth paste; stir into pan along with parsley. Simmer until thickened, about 10 – 15 min. Serve with wine of choice!
Bon Appetite,
Kerry
Tags: food