"Food is more than food. It is love, comfort, politics and a fundamental adhesive." -Kathy Ullyott, Editor-in-chief, Homemakers Magazine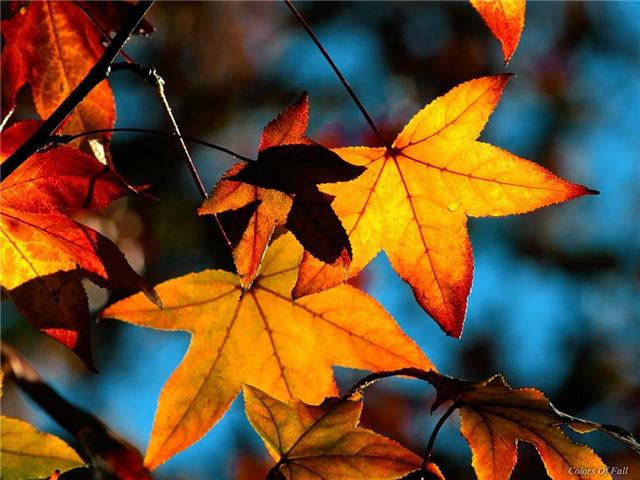 This quote says it all, and really makes me ponder how we as a society see mealtime. Do we truly understand and appreciate the importance of food and the many roles that it takes on in our daily lives? Yes, we all know that we need food to survive and that we have to feed our bodies, but what about feeding our minds, hearts and our souls?
It's the "fundamental adhesive" part that is so vitally important and is most likely ignored. Are you really taking the time to sit down, RELAX and enjoy your meal? Are you connecting with your loved ones and friends, really listening to what they have to say? Or are you more concerned about what's next–the dishes, the laundry, the game on TV, or just another hour or two of work on the computer or at the office?
I think that we get so wrapped up in the long list of "to do's" that we forget what food and the whole meal experience is meant to accomplish.
Refuel, Rejuvenate & Reconnect
Well, that's exactly what I have planned for this weekend: an informal get together that focus's on family and friends and of course, awesome FOOD, and our unconditional love for it.
 Fall's harvest makes planning a gathering delightfully easy! We're hoping for nice weather so that we can enjoy one of our last meals outside (that's what blankets are for), and the kids will even take part by cooking bread on a stick over a roaring fall fire! I'm getting all warm and fuzzy just thinking about it.
Whatever your weekend has in store, make sure that your experiences are memorable ones and take the time to savor and truly enjoy your meals. Fall in love with mealtime all over again!
Menu ~ A Fall Gathering!
Salad of Fall Greens with Pecans, Apples & Brie
Pan Fried Pickerel – caught and prepared by my Dad–it's his famous recipe!
Baked Beans
Beer Braised Beef – recipe from this month's Canadian Living.
Roasted Rosemary Potato Wedges
Caramelized Onion Cheddar Cheese ~ http://www.empirecheese.ca.
Fire Roasted Corn on the Cob
Bread on a stick
Chocolate, chocolate and more chocolate (it also happens to be Paul's Birthday–that's my significant other–and he likes nothing better for dessert than the indulgence of anything chocolate!)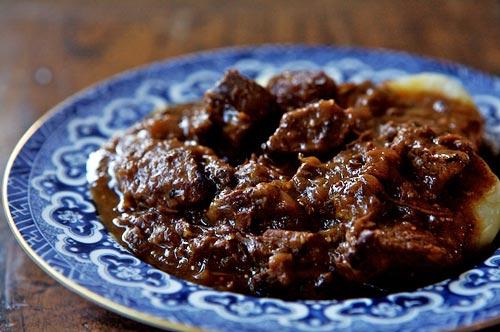 Beer Braised Beef – makes 4 servings (double the recipe for a large crowd)
2lb bottom blade boneless pot roast, trimmed and cut into 1 1/2" cubes
1/2 tsp each salt & pepper
2 tbsp vegetable oil
1 cup beef broth
2 slices bacon, chopped
3 onions, sliced
1 tbsp each packed brown sugar & cider vinegar
1 1/4 cups dark or amber beer
2 bay leaves
Pinch dried thyme
1 slice light rye bread
1tbsp grainy or Dijon mustard
2 tbsp minced fresh parsley Sprinkle beef with salt & pepper.
In Dutch oven, heat 1 tbsp of the oil over med – high heat, brown beef, in batches. Remove to bowl. Add 1/4 cup of the broth to pan, scraping up brown bits, add to bowl. Add remaining oil to pan; cook onions over medium heat, stirring often, until golden, 10 to 15 minutes. Stir in sugar and vinegar until sugar is melted. Add remaining stock, beer, bay leaves, thyme and 1 cup of water, scraping up brown bits. Return beef mixture to pan and bring to a boil. Cut off bread crust, spread bread with mustard; float, mustard side down, on stew. Reduce heat to low, cover and summer for 1 1/4 hours. Break up bread, stirring into sauce. Simmer, covered until thickened and beef is tender, about 15 minutes. Discard bay leaves, stir in parsley.
Serve with bread & cheese – Yum! Serve with dark or amber beer.
My wine pick for this menu is Red Guitar, a remarkable wine from the Navarra region of Northern Spain.