"There is nothing like soup. It is by nature eccentric: no two are ever alike, unless of course you get your soup in a can." ~ Laurie Colwin, 'Home Cooking' (1988)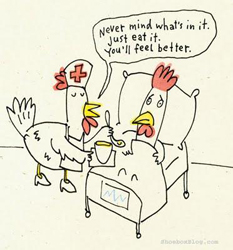 With the arrival of fall, comes those pesky sniffles, coughs and all over body aches. When your loved ones come home (as mine most recently have) complaining that they are not feeling up to par, fear not, a bowl of homemade flavorful chicken soup will fix them right up and is just what the doctor ordered. 
Now, I am a firm believer, as I have learned from my father, that soup is not "good" soup unless you make your own stock, but I do have to admit that once in a blue moon, I too have cheated and used store bought broth or the handy bouillon cubes. My substitute of choice is the Knorr product, and the result is almost always very tasty! In saying that though, the key to a good healthy, hearty bowl of soup is homemade stock, nothing can compare!
  Chicken Stock – as per my father/brilliant cook ~ I can't take credit & am still trying to live up to his "soup standards." 
Chicken/turkey backs, necks, gizzards, pieces, wings, etc (always better fresh than using ones that have already been roasted)
Water, fill pot 3/4 full with COLD water, if you use too much water your stock will have less flavor, don't try to save time by using warm or hot water
3 Bay Leaves
Fresh Parsley chopped coarsely – 2 handfuls
3 large carrots peeled and cut up in large chunks
2 onions cut up in large chunks
3-4 Celery stalks, very important to use the leaves, the leaves in the celery hearts are great, that is where a lot of the flavor is, cut in large chunks
2 or 3 large cloves of garlic, quartered
1/2 tsp celery salt
Salt & pepper to taste, use peppercorns if you want your stock clear
1 cube of knorr chicken bouillon 
In a stockpot, bring chicken/turkey pieces and water to boil, continue boiling and skim off any foam that comes to the surface. Once the stock runs clear and there is no more foam, add remaining ingredients to pot and continue boiling for about 15 min. Reduce to low and simmer gently for a few hours, stirring occasionally. If you find that the liquid is evaporating then cover pot with lid. Don't over cook, as the stock will get cloudy and slightly bitter. When finished cooking, strain the broth and refrigerate for a few hours. Any fat in the broth will congeal at the top and can be easily spooned off. Your stock is now ready to be made into soup. Use right away, refrigerate for use in other recipes or freeze.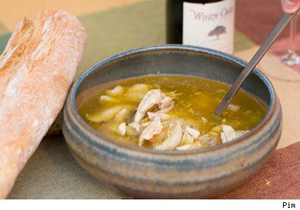 TIP: If you want a darker, richer stock, roast your poultry, poultry bones and vegetables in a 450° oven for about forty minutes, before adding them to your stockpot. 
Roasted Garlic Soup – this recipe is sure to cure anything that ails you!          
Garlic has been known to have many health benefits and medicinal properties that can help fight infection and lower blood pressure. 
2 large garlic heads, whole, unpeeled     
1 clove garlic, minced
3 tbsp olive oil
Bay leaves
1 tbsp unsalted butter                         
2 cups onion, minced                               
1 cup carrots, minced
1 large potato, peeled and cubed
4 cups chicken stock
1/2 cup dry white wine
1 tsp salt
1/2 tsp fresh-ground pepper
1/4 cup heavy cream 
Roast the garlic: Preheat oven to 350 degrees. Using a serrated knife, cut the top off each garlic head so that the tip of each clove is exposed. Place the garlic heads on a large piece of aluminum foil and drizzle with 2 tablespoons of olive oil. Add the bay leaves and fold the foil to form a packet. Place the packet in the oven and bake for 45 minutes. Cool slightly. In a small bowl, squeeze the garlic head until all of the roasted flesh is released. Discard outer husks and bay leaves.
Make the soup: In a large heavy-duty saucepan, heat the remaining olive oil and butter, add onions, and cook over medium heat until translucent–about 4 minutes. Add the carrots and continue to cook for 5 more minutes. Add the minced garlic and cook for 2 minutes. Stir in the potato, chicken stock, white wine, roasted garlic, salt, and pepper. Cover and bring the soup to a boil. Reduce heat to medium low and continue to cook for 35 minutes.
Finish the soup: Using a blender, purée the soup in small batches until smooth. Return the soup to the saucepan over medium heat and whisk in the heavy cream. Heat until warmed. Do not boil. Keep warm until ready to serve. 
Enjoy ~ Sit back, put your feet up and let the healing properties of the garlic and homemade stock work its magic, those winter blues will soon be long gone!
Tags: food