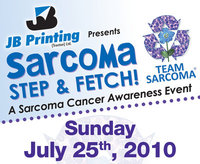 Hi everyone! This post is especially for those of you following us in the Quinte region. This Sunday, the team over at JB Printing is holding a very special event to raise money and awareness for Sarcoma, as part of the International Sarcoma Awareness Week.
What's a Step & Fetch? We'll let Tamara, from JB explain:
This Sunday July 25th, we are hosting a Sarcoma STEP & FETCH Cancer awareness event at JB Printing!

The walk starts at Quinte West City Hall at 1 pm, weaves throughout Trenton and then ends at JB Printing. Participants collect Sarcoma Fact Cards along the way, once back at JB Printing, the fact cards turn into tickets for chances to win some FANTASTIC door prizes!

Please come out for this ALL ages, Rain or shine event! There will be great food, awesome prizes and a delicious bake sale! If you can't make it to the walk, come out for the BBQ & Bake sale! The Whystle Dawgs Band will be performing too! Hope to see you there!

Call or email me for details; 613-394-3245, [email protected]

Thanks!!
Tamara (from JB Printing)
Registration is FREE, and it's open to all ages. It sounds like a blast! Make sure to check it out, support a good cause, and have a tonne of fun along the way.