Our 100 Mile Diet is right around the corner and I'm trying to gear up, but that stress factor is starting to rear it's ugly head– and we haven't even started yet! This is going to involve some serious planning and research–good thing I don't live in the Yukon. Yikes! We are so fortunate that we live in an area that has an abundance of fresh produce, dairy and meat products, all in our backyard, figuratively speaking. 
I consider myself someone who tries to do my part and shop locally for the food that graces my table… honest. I buy cheese from our many cheese factories, I ONLY buy butter from the Stirling Creamery (even though I sometimes have to pay more for it). Their butter is ranked as one of the top 30 butters in the world. WOW!
I stop almost daily at Campbell's Orchards roadside stand to pick up my veggies for the evening (best carrots in town), and of course a few apples. Sometimes I'm down three before I even make it home–they get gobbled up by the kids on the car ride. I buy lavender cooking products from Prince Edward County Lavender  (lavender salt & sugar & Herbs de Provence), mushrooms from the Wellington Mushroom Farm, Maple Syrup from Fosterholm Farms  and lets not forget, ice cream from Slickers. 
Here's the kicker, my daily stop at Gilmores Meat Shop & Deli – now this is where it gets tricky. I'm buying from a local butcher, but where does he get his meat from? Oh no, now I have to source meat and poultry from a local farm, this brings a new meaning to this 'local' business. Now it's not stress but withdrawl rearing it's ugly head! Not only do I buy my meat there, I buy their homemade bread and buns, cookies, squares, pies… must I go on? I'm sure that they are locally made, with local flour and butter and eggs, aren't they?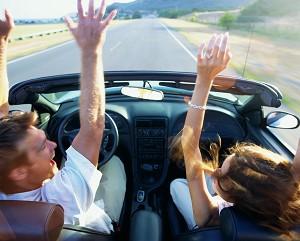 Now this wouldn't be a post by me if I didn't make a slight mention about wine or beer, of which I also shop locally. I've toured and tasted at the many wineries, always taking home a bottle or two or three. I have yet to tour a local brewery, maybe that excursion should go on my wish list for our challenge?
 Well, I think that I have finally figured it out! This is your classic Ultimate Food Road Trip! Fun, I love road trips. It's time to hop in the car, take a drive through our beautiful countryside and see what our 100 miles have to offer – want to join me?
We'd love some help here, if you have any tips on local food stops and locations, great finds etc. send us an email, we can use all the help we can get. In the meantime, check out the Harvestin' the County's Locally Grown Map. What an awesome tool! 
Cheers,
Kerry