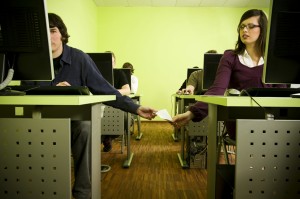 Entering the online world is sort of like walking through the door of a new school on the first day. There's a sea of unfamiliar people, sites, and sounds.
You might have been the 'big man on campus' back home, but now you're just a face in the crowd.
With thousands of people passing you by, how do you make new friends? Find the right classes? Who are your teachers? And how do you filter all the information?
The online world is big and can be overwhelming. But that's why we're here. We aren't the jock, we aren't the prep, and we don't belong to a Breakfast Club. What we are is the friendly face in the crowd.
We'll show you the ropes.
We aren't here for the experts (although we're hoping to inspire you as well). We're here for our clients.
And we're here to tell a story–of real people, doing what they love, every day.
In the end, this is only one entrance into our world. Our hope is that someday you use the front door.