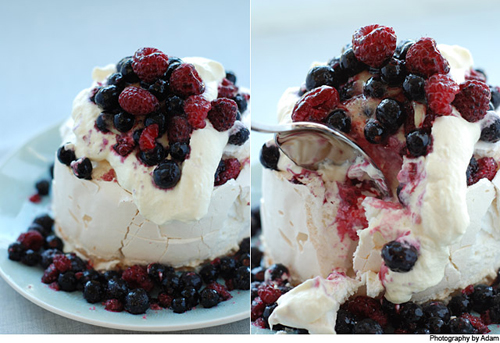 Once again, we have been blessed with another post from our friends from Our Kitchen, over in New Zealand. This time the recipe is for one of their Christmas specialties ~ Pavlova.
Susie from Our Kitchen writes:
Pavlova is an iconic Kiwi dessert, well, if you believe us New Zealanders and not our counterparts across the ditch in Australia.  It's probably one of the more versatile desserts I know of.  It can be served in hot or cold weather, can make the grade for special dinners but can also be served up at a low key barbeque.

Typically the meringue dessert is slathered in cream and then decorated with slices of kiwifruit.  But I know and have seen many other ways to garnish it.  It's definitely a dessert we savour at Christmas time, and since Christmas time marks the beginning of summer for us here in New Zealand we like to garnish it with fresh berries.  I definitely recommend having a try at it and getting a taste of an antipodeans Christmas.

Hope you guys have a fantastic festive season!
Traditional Kiwi Pavlova
Serves 4
3 egg whites
1 cup caster sugar
1 tsp vinegar
1 tbsp cornflour
1 tsp vanilla essence
Fresh Berries
Whipped Cream for topping
Method
1. Preheat your oven to 150°C on bake, if you would like to use a fan function for that extra crispy coating use a lower temperature like 125ۦC*.
2. Line a baking sheet with baking paper.
3. Beat the egg whites on a high setting until stiff peaks form. To make you sure your egg whites whisk up nicely ensure there is no egg yolk in them and that all the utensils and bowl have been rinsed in scalding hot water to remove any grease.
4. Add sugar gradually whilst still beating on a high setting, usually a tablespoon at a time is the norm or if you have steady hands pour in a slow steady stream, making sure at each addition it is beaten thoroughly.
5. Once all the sugar is added beat for a further 10 minutes. This is important as it helps the mix to stiffen a little more, which will mean it will keep its shape when it's baked.
6. Mix together the vinegar, cornflour and vanilla essence, decrease the mixer setting to med-low and add in the cornflour mix. Once just mixed in, turn off mixer.
7. Cut a ~40cm length of baking paper and fold along its length. Curl on tray to make a cuff with a diameter of ~17cm, either tape or pin it to keep its shape.
8. Spoon meringue mix into cuff and smooth out surface. Place into the middle of the oven, if on bake turn the oven down to 125°C and bake for one hour. After an hour turn the oven off and let the pav cool in the oven. For fan functions do everything the same just turn the oven a little lower, maybe 115°C.
Hull and wash some berries, whip some cream and serve! You can also opt for the sliced kiwifruit.
Tips and Tricks
Using a fan function forces convection currents and dries out humidity that the more gentle bake function has, which is why you're likely to get more of a crust on the pavlova using a fan function. Because of the forced convection, fan functions transfer heat and energy quicker than bake, thus the golden rule of baking is to decrease the baking temperature by roughly 20°C when using them.
Thanks again for sharing Susie, from all of us at Engine, we wish you and your F&P team a Merry Christmas and a prosperous New Year! 
For more recipes from the team at Our Kitchen, make sure to visit their blog. Connect with them on Facebook and Twitter too!
Cheers,
Kerry
Tags: bloggers, food, guest contribution