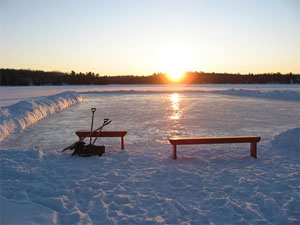 Yes, I know, today is only Tuesday, but as of 4:00pm today, I'm outta here! I thought that instead of missing Friday altogether, I would post a "Tuesday's with Kerry" this week.
I am so looking forward to some well needed time off – as are all of you I'm sure. My time is going to be spent with the ones I love–family and friends–and yes, a bottle or two of well aged red wine and maybe even a rum and egg nog. There will be tonnes of yummy food, and of course, countless hours on the lake (we are so blessed to have the coolest ice rink right out our back door). I've got one foot out the door just writing about it.
I wish all of our readers a spectacular holiday season, and I look forward to sharing some wonderful food and beverage stories and recipes when I return.
Today I would like to share with you a recipe that I whipped together last Sunday ~ in full anticipation of not having time to slave over a hot stove once inside from the rink.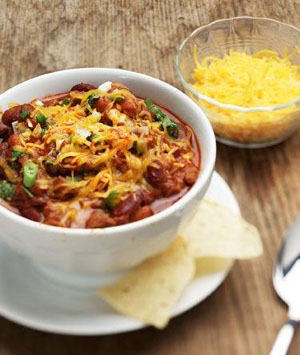 Slow Cooker Smokey Sirloin Chili 
5 lb. Sirloin roast, cut into tiny pieces (this is the time consuming part but trust me, it's worth it)
1 large cooking onion, chopped fine
2 stalks of celery with leaves, chopped
fresh parsley, chopped
3 cloves garlic, pressed
2 tbsp butter
1/4 tsp chipotle chili pepper
1/4 tsp cayenne pepper
1/4 tsp smoked paprika 
1 tbsp brown sugar
salt to taste
pepper to taste
2 tsp Worcestershire Sauce
1 small can of tomato paste
1 large can of stewed tomatoes with italian seasoning
1 can tomato sauce
1 can kidney beans, rinsed  
Add butter to frying pan and brown beef in batches over medium – high heat (do not cook all at once), remove beef and put in slow cooker. Continue to cook remaining batches, adding to crock pot once browned (do not overcook, just needs about 5 min.). With heat still med – high, add to pan juices; onions, garlic, parsley and celery with leaves. Cook for about 7 min., then add spices, brown sugar and worcestershire sauce. Just cook long enough for the spices to get fragrant then add to the crock pot along with the beef. Add paste, stewed tomatoes, tomato sauce and kidney beans. Stir together, taste for adjusting salt and pepper. Cover and cook on low for 6-8 hrs. Remember, try to avoid lifting the lid for a taste or a sniff, as you lose about 20min. of valuable cooking time each time you do!
Serve with warm bread with chive & garlic butter. Aged cheddar and sour cream are nice toppers too. What a treat, to come in from the cold to this hearty, warm dish!
Cheers!
Kerry
Tags: food