Here I go again, do you see the pattern here? Yes, most of my recipes include wine, beer or grog of choice. This time it's bourbon, smooth, rich & sweet bourbon.

Bourbon Baked Beans
4 strips bacon
1 large onion, chopped (1 cup)
2 stalks of celery (with leaves), chopped
1 sweet green pepper, chopped
1 can (16-ounces) diced tomatoes
1/2 cup molasses
6 Tablespoons tomato paste
1/3 cup bourbon
1/4 cup firmly packed light brown sugar
2 tbsp Dijon mustard
1/2 tsp salt
1/4 tsp black pepper
1 pound dried navy beans
Preparation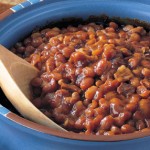 Cover & soak beans in cold water overnight to soften. Drain beans and discard the soaking liquid. Place beans in a pot of cold water and bring to a boil, skimming off any scum, then reduce heat to a simmer and cook for about 45 min.
Drain the beans (reserving the liquid) & pour into a bean pot or heavy ceramic casserole dish that has 2 of the bacon strips placed at the bottom. Heat oven to 350 degrees F.
Cook remaining 2 strips of bacon in a large skillet over medium heat until cooked (not too crisp). Remove to paper toweling to drain. Pour off all but 2 tablespoons fat from skillet.
Add onion, celery and green pepper to skillet; sauté 8 to 10 minutes or until tender. Stir in tomatoes, molasses, tomato paste, bourbon, brown sugar, mustard, salt, and black pepper. Bring to boiling; cook, stirring occasionally, 3 to 5 minutes.
Crumble bacon & add to sauce. Pour mixture over beans in pot. If mixture does not cover the beans, then add the reserved cooking water.
Bake at 350 for 2 hours, then turn oven down to 250 and cook for another 1.5 – 2 hours. Check the beans during cooking to ensure that they are not drying out and if necessary add more water. Remove the lid in the final hour of cooking to allow the sauce to thicken.
Enjoy as a side dish with breakfast, on it's own as a heartwarming lunch, or as the sidekick to your main dish at dinner ~ pairs great with ribs!
Smiles,
Kerry